We practise what we teach at St. Margaret's when it comes to healthy eating and good nutrition. Every day offers a meat free choice alongside the regular dishes as well as a fresh salad bar and home-made soup, ensuring every pupil gets a healthy, nutritionally balanced meal. The kitchen works hard to ensure that children with food allergies or intolerances, any special diets (gluten free/vegetarian etc.) or those with any special religious requirements are well catered for.  We aim for a calm dining hall where children are encouraged to eat and chat to their peers.  All the children leave the dining hall at the same time which avoids the temptation to eat too quickly.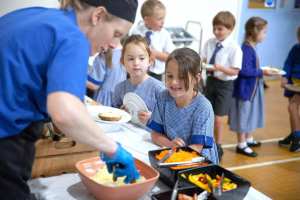 There is a three week menu each term, and parents can help choose a meal for children in the Early Years. Every child in the school, and children in the Nursery who are with us for the full day, or those having morning sessions, have a cooked lunch. None of our pupils have a packed lunch.
Ethical Sourcing
As well as providing healthy, wholesome meals our School caterer, Thomas Franks Ltd. is also very aware of responsibility associated with having such a large network of suppliers. Because of this they always use local and regional suppliers for all of our goods. Keeping the food miles low guarantees freshness as well as reducing the impact on the environment.
All of our suppliers are certified to the highest standard in their sector with accreditation's such as Red Tractor, Compassion in World Farming and EBLEX.
Snacks
Our children bring a snack into school for morning break and in keeping with our healthy eating policy we ask that this consists of fruit and/or vegetables, cheese and plain crackers. Milk and water are provided at morning break.