NSEA Bronze Medallists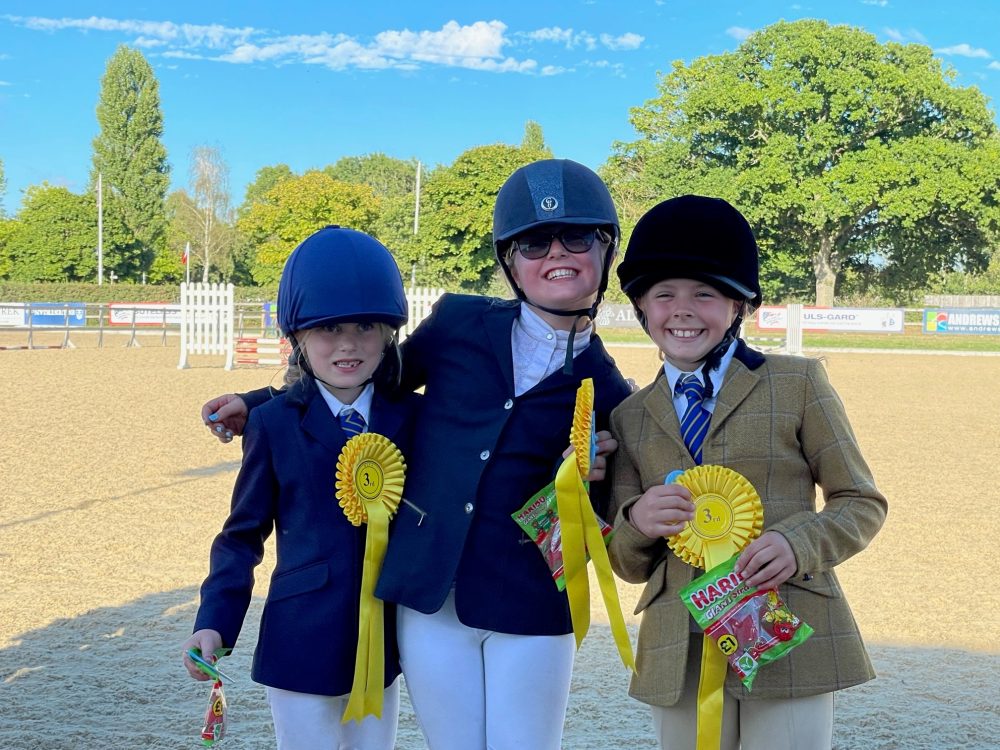 Mr Lunn's Report:
During the summer, our show jumping team have been hard at work preparing for the National Schools Equestrian Association (NSEA) National Championships. Both parents and children made the trip to the All-England showground at Hickstead on the 22nd of August to set up camp. We qualified for this show throughout the year at regional qualifiers and regional championships where we have competed consistently across the 2021/22 academic year.
At 7.45am, children, parents and ponies were up and ready to go in the first class of the day, the 40cm Final. There were 58 riders in this class, all of whom would have had to qualify at regional events from around the country. We had 4 children in this competition, Jack, Francesca, Hara and Angus. All of them rode very good rounds with Jack showing how tidy he can be in the saddle.
Results:
ANGUS 33rd
HARA 13th
FRANCESCA 28th
The second competition was a team and individual event and had even more riders. There were 16 teams and 80 pony/ rider combinations. Jack and Angus both rode lovely individual rounds in this one, giving us two clear rounds. Hara and Francesca also recorded very competent clear rounds showing brilliant style and performance. Our combined scores meant that we ended up finishing 9th as a team. Not bad considering the average age of our team was 7 or 8 years old.
Results:
JACK 26th
HARA 28th
FRANCESCA 30th
ANGUS 31st
Next up in the day, we had Charlie in the 60cm competition up against 92 combinations. The course looked good, and we could see that Charlie was going to be fast against the clock in the jump off phase. Charlie showed great determination on her pony, Peach and recorded a great clear in the first phase. In the jump off we could clearly see that Charlie was going for the win, and with a time under 2 seconds off the winner, unfortunately the final fence fell meaning that Charlie would finish as the fastest four faulter in 31st position.
After a quick turnaround Charlie was back in the ring for the 70cm competition, up against 82 other combinations. On Abbie, Charlie finished 41st with 8 faults in a time of 36.45. On Peach, the pony that she was so unlucky with in the round before, Charlie recorded a quick double clear in 33.12, finishing 16th overall. Some top-notch riding on display.
The final competition of the day was the mixed heights team competition. This is a competition that involves 3 of our children jumping the same course but over different heights. The scores are then combined to create a final score that would then be up against the other schools combined scores. Francesca was first to go around the 40cm and recorded a nice quick clear round for the team. Next to go was Hara in the 50cm. She showed class and composure under pressure and managed to secure a lovely clear round for the team. This left our last rider the task of going clear with a quick time to get in the placings. Charlie was last to go for team St Margaret's in the 60cm competition and recorded a very competent clear round in a good time. This meant our schools combined time for the competition was 101.25 seconds. All riders in this competition deserve great credit as their rounds meant that St Margaret's came 3rd.
It was a great day, and it is great how far our show jumping team has come this year. We are now NSEA mixed height bronze medallists. Well done to all involved and thank you to the parents who made the commitment to the showjumping team last academic year.
Published on: 12th September 2022