Year 6 Awards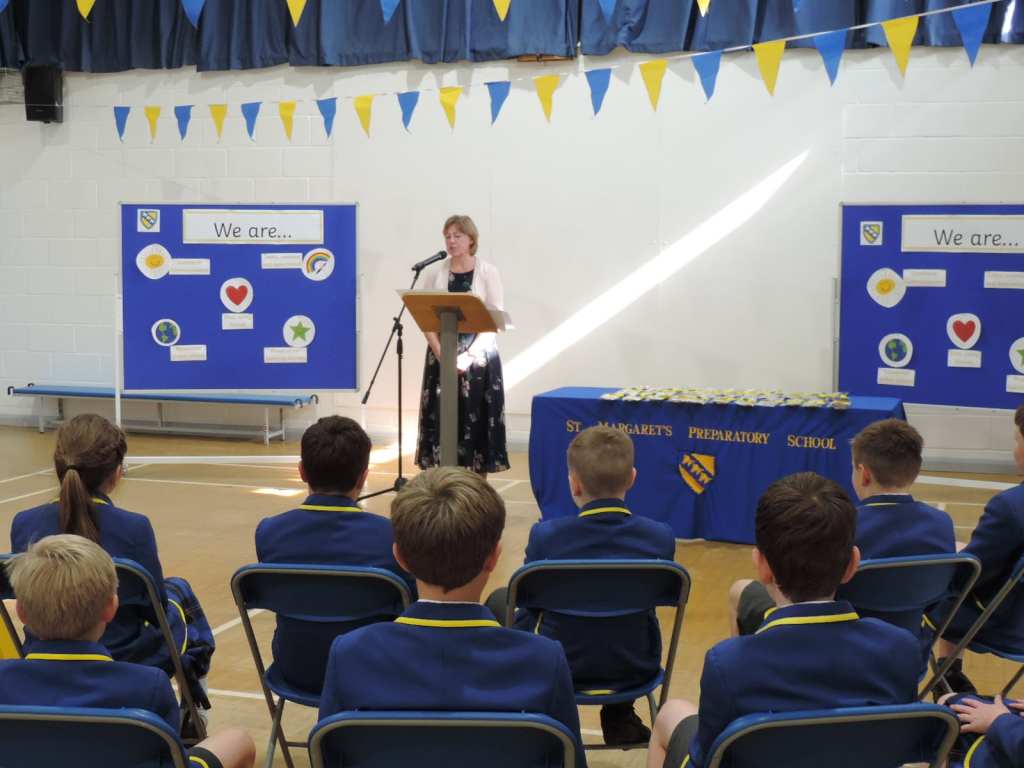 Congratulations to all our Year 6 prefects that were announced during our special awards celebration on Friday 11th September.
Mrs Moss said:
"It doesn't seem long ago that some of you were in Nursery and here you are – at the top of our school. Your teachers are so proud of all the progress you have made since those early days and we know you will continue your learning journey throughout Year 6 and beyond.

This year has been a very challenging one for all of us we have been so impressed with your attitude to adversity. You have shown yourselves to be positive, resilient and able to quickly bounce back. These are difficult times, but you have shown us all how to make the very best of what we all have.

We have a fantastic group of teachers here at St Margaret's but we really value the work that our Year 6s do to make sure the school runs smoothly for everyone, working together as a team.

We've worked very hard as a staff to decide on a role that we feel is perfectly suited to who you are. Every person in this room is an individual with different skills, interests and passions and we want to harness these to make every St Margaret's child has a wonderful time."
The new Heads of School were awarded to Maya and Sylvie.
Mrs Moss described Maya as a positive role model. She is always smart, on time, willing and kind. She encourages others and always has a smile. Sylvie was awarded for her very mature attitude and being a good role model for learning. She is polite, considerate, a confident communicator and a great ambassador for the school.
All teachers agreed that both Maya and Sylvie would do an excellent job in the coming year and we look forward to working with our new Heads of School and all our wonderful prefects.
Heads of School & Prefects 2020/21
| | |
| --- | --- |
|  Esme B | House Captain Red (Nugent) |
| Eddie B | Senior Prefect Middle Years |
| Florence B | Sports Captain |
| Josie B | House Captain Yellow (Wentworth) |
| Oliver C | Senior Prefect Prep |
| James C | ICT Prefect |
| | |
| --- | --- |
| George C | Sports Captain |
| Edie D | English / Library Prefect |
| | |
| --- | --- |
| Maya E | Head of School |
| Sylvie G | Head of School |
| Ella H | ICT Prefect |
| | |
| --- | --- |
| Amelie J | Sports Captain |
| Rose L | Art Prefect |
| Thomas L | House Captain Green (Rolfe) |
| William L | House Captain Green (Rolfe) |
| Sebastian M | House Captain Blue (Knight) |
| Lily M | Music Prefect |
| Blake M | House Captain Yellow (Wentworth) |
| Bianca N | Senior Prefect EYFS |
| Noa O | House Captain Blue (Knight) |
| Emma P | House Captain Red (Nugent) |
| Thomas T | Sports Captain |
Published on: 15th September 2020