Starting "Big" school when your child reaches five years old can be a daunting time, that's why at St. Margaret's we're here to hold their hand – and yours!
Our Reception classrooms are beautiful, bright and spacious, equipped with everything a little learner needs to make every day special! A separate outdoor area, specifically for our EYFS children, allows for exploring and building new friendships within our seven acres of parkland.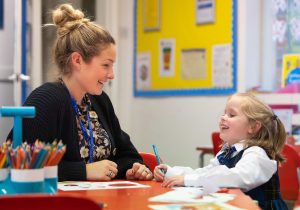 Class sizes are small, with dedicated, enthusiastic, well qualified class teachers and teaching assistants who care for the children as individuals, helping meet their needs to realise their full potential.
French, Music, Drama and PE are taught by specialists, taking advantage of our wonderful
music and sports facilities.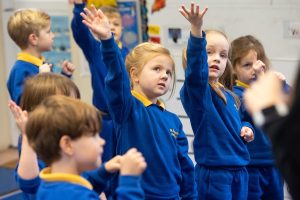 Best possible start to their educational journey
We focus our teaching not only on the early years curriculum but also strive to make every child a confident, enthusiastic reader using the 'Jolly Phonics' and 'Letters & Sounds' programmes. Maths is taught daily, drawing on the Singapore Maths Concept', to build solid foundations for their mathematical journey through school.
There are different topics every term and plenty of opportunities for learning outside the classroom, including Forest School and outdoor play. Topic work is supported with Science,  computer science, creative play and art, adding extra 'fizz' to the week.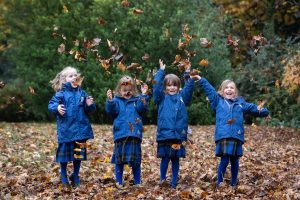 Extracurricular activities including sports, drama, art and music clubs, exciting school trips and visitors, brilliant fundraising events and themed days instils a lifelong love of learning.
"By the time they leave the EYFS, most children have a reached higher level of development than the national average."
ISI
Healthy, happy children
At lunch our own catering team provides a nutritionally-balanced hot meal. Dining alongside the older children in Pre-Prep helps to develop good table manners, correct use of cutlery and communications skills.
Integration with the rest of the school is important and the children attend assemblies and play with Years 1 and 2, often assisted by older pupils. They also have the opportunity to perform in front of parents and the rest of the school each term, building their confidence at every step.
We want all our pupils to be happy in themselves, by helping them to recognise who they are, celebrating their achievements and supporting them to develop with confidence.
We know St. Margaret's can provide your child with the best possible start to their educational journey!
Contact our Admissions Manager, Kate Cryne on 01787 273 050 to find out more and to arrange a visit soon.
"St. Margaret's has given my children the best start in life. Giving them the opportunity to become their best, in a nurturing environment."
Parent
Our Reception children are always on the go – learning while having fun as shown in the short video.