Prioritising safety in a digital learning environment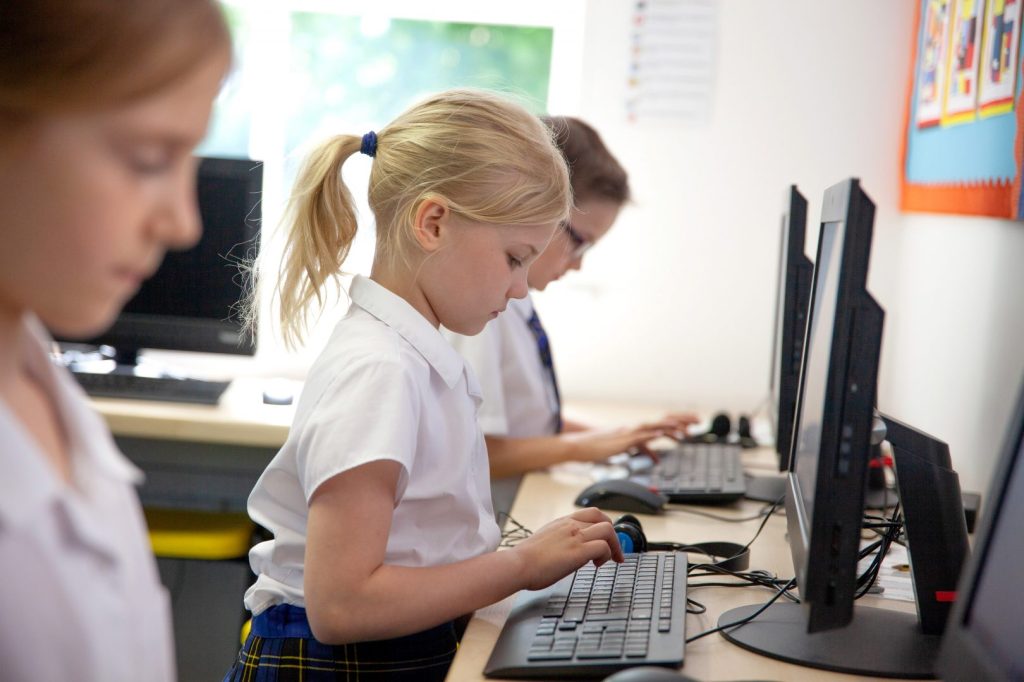 We're so proud of the way our pupils have responded to being back in the classroom since we re-opened last term. There is clear enthusiasm for face-to-face collaboration, and we have witnessed a boost of renewed energy in lessons. The last period of home learning was undoubtedly a tough time for both children and parents yet the ways in which the St. Margaret's pupils responded to that change was uplifting. Our 1-to-1 device programme means that all Prep children now have their own personal device for ongoing use and will continue to build their digital literacy and independence in learning.
While digital learning is no longer as new, this doesn't mean that the digital learning environment is any less daunting. Technology brings incredible benefits and our devices contain the latest educational and safety software, yet it's sensible to be cautious about the length of time, and means by which, your child is online.
The safety and emotional wellbeing of your child is our priority. Every device we provide to pupils is pre-loaded with smart software powered by AI (Artificial Intelligence) that filters – based on the age of the child – inappropriate content accessed through a browser or application software. The software runs in the background at home as well as in the classroom and will alert teachers during school hours to any online behaviour that is unusual or may cause concern via activity logs. Such safety filtering helps to support the prevention of cyberbullying, self-harm and any other inappropriate or harmful content.
Please be assured that our teachers are trained to prioritise wellbeing; they are familiar with their pupils and are well versed in safeguarding measures to recognise any unusual behaviour or signs of distress.
Our own Digital Champion, Miss Gutteridge whose responsibility includes promoting e-safety within the school, has put together the following tips for parents.
5 Top tips for making digital spaces safer
Check and install filter and privacy restrictions
This device is a learning tool and, as such, the safeguards that Cognita have put in place for the classroom are not the same as those installed on your devices at home. You can support these safeguards by setting up internet filters at home for your child's device. You may wish to install ad blockers to prevent inappropriate content being advertised to your child. This is also another opportunity to check that all of the existing parental control settings on your child's other personal devices are working effectively; in that way we are sending your child a clear and consistent message of care.
Resource:
NSPCC guidance on setting up parental controls
Parental control guides available at internetmatters.org
Active parental involvement
Taking an early interest and collaborating in your child's online activities at home will help maintain a safe digital environment for your child. Initiate conversations with them about their activities on the device and stay informed on what they are doing online. It is important to have regular conversations with your child: keeping your child safe means making them aware of the risks. Your child also needs to be aware that they have a trusted adult they can talk to if they see something online that makes them feel worried or uncomfortable. Lastly, think about where the device will live while at home – you may wish to restrict the amount of time your child spends on their device in their bedroom, outside of a supervised space, or in the evening.
Resources:
Conversation starter ideas from Childnet
Keeping under-fives safe online – advice from Childnet
Privacy and conduct online
Remind your child that even when they are no longer in the classroom, the same level of behaviour, manners and conduct is expected of them. The same applies to our teachers who are expected to maintain professionalism at all times. Entering personal information online should always be done in consultation with a parent or carer, and to avoid phishing, or identity theft, any unexpected messages should always be treated with caution.
Advise your child not to share their username and password with anyone and not to leave their computer logged in — this is to stop anyone from using their account to post damaging material using their details.
All of our teachers use school-approved apps, website and learning platforms when working with students and will never share personal contact details with pupils.
Resource:
Guidance on improving your privacy online from UK Safer Internet Centre
Social media
Children today have a world of digital networking opportunities at their fingertips. Understanding the risks your child may have to deal with online is important. Set rules with your child as to when and how they can engage with social media; encourage your child to think carefully before they post information online – some websites don't allow for content to be taken down; check 'tagging' settings so that your child's identity is not revealed when friends post images online; block location access to social media apps; and review security settings. It's also worth recommending that your child sets their profiles to private, so they can control who sees the information they post.
Resource:
UK Safe Internet Centre detail the safety features available on popular social media networks
Maintain communication with teachers
Make sure you understand what is expected from your child when they are working on their device, and where time on the device is concerned. Our digital safety policy is available here
If you would like to find out more about our laptops for Prep children and how we teach e-safety in the digital environment, please contact admissions@stmargaretsprep.com