Ava and Orla, fundraising for St. Clare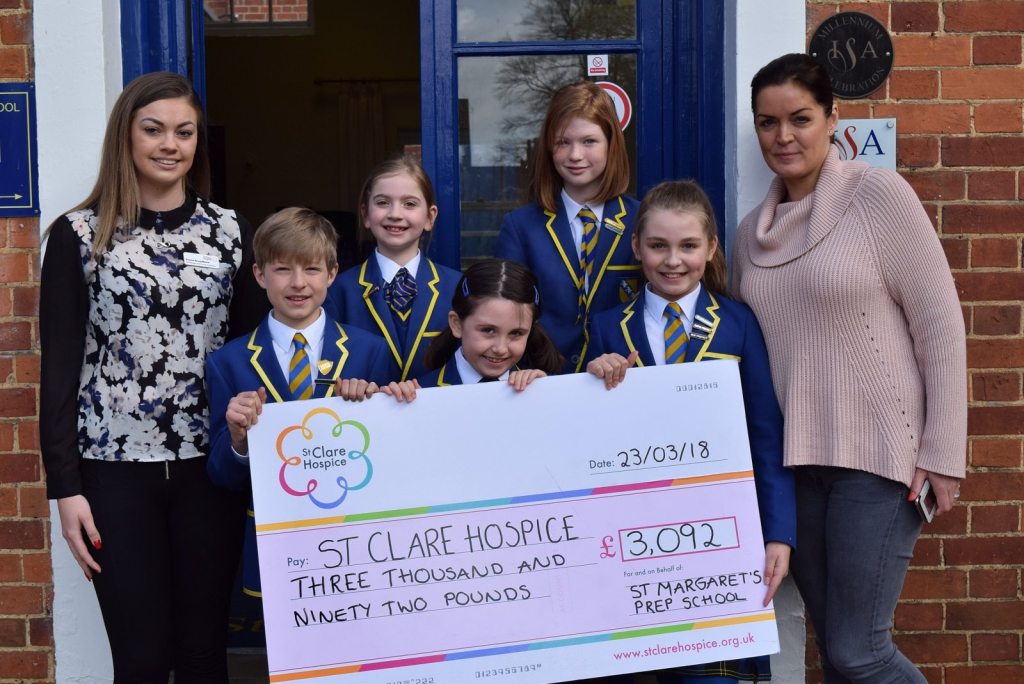 Ava and Orla Brobyn wanted to do something to help raise money for St Clare Hospice based in Hastingwood, Essex, who have been doing so much to support their family since their father, Conor, was diagnosed with a terminal brain tumour.
The girls, both pupils at St. Margaret's, asked if they could sell items from the charity at school to raise funds. With the support of their friends Aimee, Oscar and Maya, they set up a stall after school and at lunchtimes to sell brooches, wristbands and 'flumpets' which children could attach to their school back packs.
The school community, pupils, parents and staff, fully supported the girls' efforts and Headmaster, Callum Douglas, also added a charity day and a 'Jolly Jumper' Day to the timetable to raise additional funds. Altogether over £3,000 was raised for the charity.
Mrs Kellie Brobyn, the girls' mum, said "We would like to extend our heartfelt thanks for all of the efforts by the school to raise money for St Clare Hospice.  We were so touched by the generosity shown by staff, children and parents alike. The on-going support given to us as a family by St Clare's has been invaluable.  We feel truly supported from both a medical and emotional perspective, the staff are amazing and the services they provide help so many families, both patients and relatives. The team at St Clare Hospice were amazed when they were told the girls and  St Margaret's raised a total of £3062!
As Conor's illness has progressed I think we all feel that we would be really lost without the support of the palliative team at the Hospice.  I know from reading the many case studies on the St Clare website this echoes how other families have felt in the same circumstances.   This kind of illness really does take both the patient and the whole family on the most horrendous of journeys – the kindness and support we have received from the hospice staff continues to get us through each day and we know this will be the case as long as we need it.  Thank you once again for supporting this charity which is very close to our hearts."
Emma Broadbent, the Challenges and Events Fundraiser for St. Clare, visited the school just before the Easter break to be presented with a cheque by Ava and Orla. Dani De'ath, the Community Fundraising Lead for St. Clare told the school "The support you have given the girls is amazing and it is very clear it has certainly helped them through a very difficult time" Dani also said that the girls' efforts had been the talking point in the fundraising office! "
St Clare Hospice is a local charity and each year they care for hundreds of people across West Essex and the East Hertfordshire border, providing free, compassionate care and support to adults with life-limiting illnesses, their families and carers. For further information about the Hospice please see https://stclarehospice.org.uk/
Published on: 3rd May 2018