Year 6 star in farewell film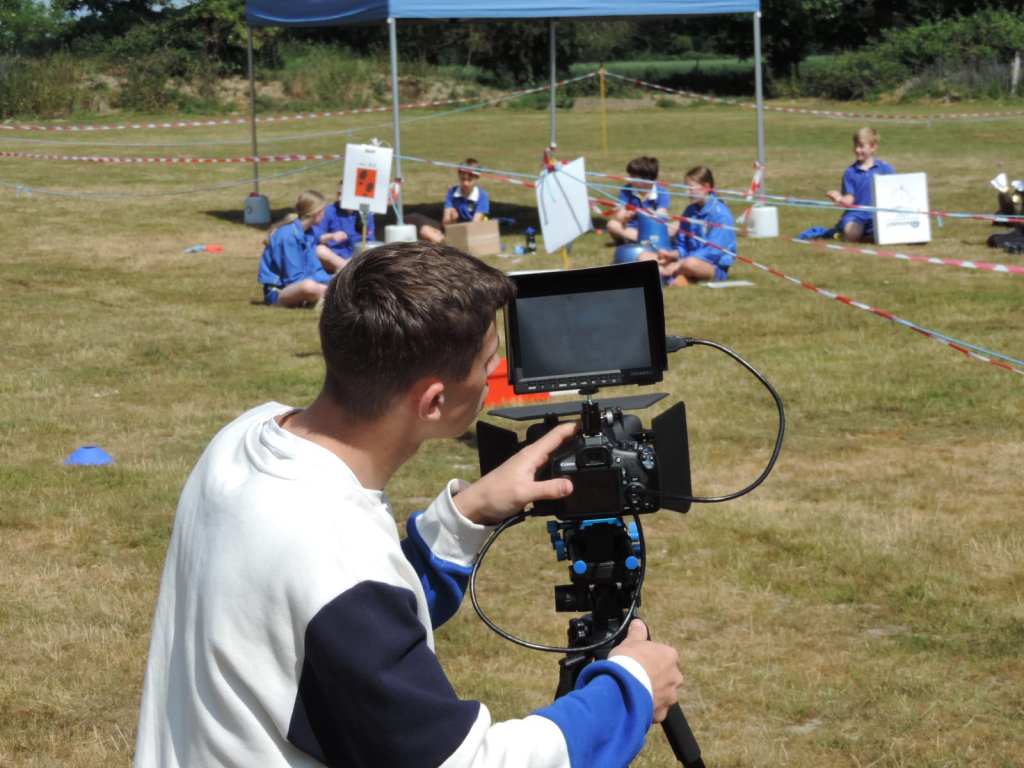 Two 17-year-old college students whose studies were abruptly ended by the Coronavirus, have teamed up to volunteer their time and skills to help create positive memories for our Year 6 pupils.
Knowing how upsetting it has been for the pupils – particularly for the Year 6 leavers, who should have been making lasting memories on trips and events like sports day, Speech Day and leavers' assembly – the students are working in collaboration with parent, Mrs Claudia Harrison to produce a special keepsake film that the Year 6 leavers can treasure, helping to create a positive end to this extraordinary school year.
Filming is taking place with all the Year 6 pupils that returned to school on 1st June when it reopened its doors after three months. Pupils from other year groups, including those still working from home, have also contributed towards the film, which follows the School's 'Coronacoaster' experience from the lows of closure, to stepping up to the challenges of online teaching and learning from home, to the joy of returning and being back together with friends. It depicts the children's resilience and positivity as they now look to the future.
Claudia Harrison is an actor and associate teacher at RADA, she directs the leavers' musical production every year. As the musical had to be cancelled, instead Claudia has written and directed the film for the children to perform.
Ben Moss, from Belchamp Otten, a Year 13 student at Hills Road Sixth Form College, Cambridge had his A-levels in Music Technology, Music and Drama & Theatre Studies cancelled. Ben has been offered a place on the BA (Hons) Creative Music Technology course at Bath Spa University and hopes to start in September. Ben is a former pupil at St. Margaret's Prep and is the son of Acting Headteacher, Mrs Carolyn Moss. Ben is editing the film.
Ben says "I still vividly remember my Speech Day and leavers' assembly from when I left St. Margaret's. If I can help give the same joyful memories that I have to the current Year 6s, despite social distancing and lockdown restrictions, then I'm delighted to work with Connor (a visual ace) and Claudia on this exciting project. The children are fantastic and great fun to work with and I'm doing something I really love."
Connor Crowley, from Bures, is in his first year at West Suffolk College, Bury studying Level 3 Film and Media Production. His end of year projects and exams were cancelled when the college closed in March. Connor's mother, Mrs Crowley is Head of English at St. Margaret's Prep. Connor is the videographer.
Connor says: "This has been a great way to gain important, extra experience by working with different people. I'm learning new ways to direct from Claudia and gaining skills in audio and editing techniques from Ben. The St. Margaret's children have been enjoyable and fun to be around. At times it can be challenging directing young children! But that's is all part of the experience."
Claudia Harrison says: "It has been a real pleasure to work with Ben and Connor on this project. Both have real ambition to work professionally in the industry and show incredible drive, commitment, talent and energy! East Anglian born and bred. Watch this space!"
Mrs Carolyn Moss, Acting Headteacher at St. Margaret's Prep says: "I am so very grateful to Claudia, Ben and Connor for all that they are doing to help our wonderful Year 6's have a positive end to their time here. They have all worked so very hard over the years, they are such amazing individuals and it has been a pleasure to teach them. It is wonderful to have them back in school and to see them having so much fun during the filming."
Published on: 29th June 2020