Celebrating two National Athletics Champions!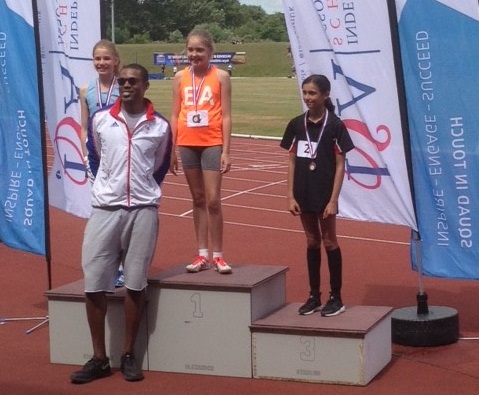 St Margaret's are absolutely delighted to have two National Athletics Champions this year!
Skyla Lawrence in Year 6 became the Year 6 Girls' Long Jump Champion (4.01 metres), and Roberta Dines in Year 5 became the Year 5 Girls' High Jump Champion (1.25 metres) at the Independent Schools Association National Finals in Birmingham on Wednesday 19th June
The children were all representing East Anglia at the National Finals, having performed fantastically well at the Regional competition at Garon's Park in Southend the week earlier. In all St. Margaret's sent seven children to the Nationals, The Year 5 girls relay team (Roberta, Isabella, Maya and Katie) Emily (Year 4 – 600 mtrs), Roberta (Year 5 – Sprint & High Jump), Skyla (Year 6 – Long Jump) and Oscar (Year 6 – High Jump)
Roberta was also awarded a bronze medal in the Year 5 girls' 75 metre Sprint, and the Year 5 girls were involved in a photo finish for Silver in their hurdles race – narrowly missing out by 0.02 of a second to win the bronze. A very exciting race.
Our thanks to the parents who travelled to Birmingham to support the children
Published on: 29th June 2018