Our Story: 75 Years of St. Margaret's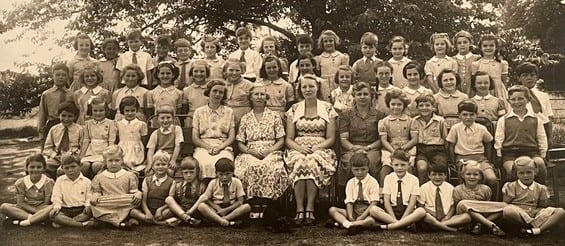 This National Storytelling Week, we are thinking about the stories of St. Margaret's over the 75 years since it was founded in 1946. We hope to celebrate across this 75th anniversary year by sharing stories, memories and pictures from former pupils and staff. But where better place to start the story of St. Margaret's, than with the timeline of the school and its Headteachers, and their school pets!
1946 – Mrs Lowe and Commander Lowe owned Gosfield Hall, applied for planning permission to convert the stables into residencies and a school. Opened the school for their two daughters, Margaret and Elizabeth, and 8 other pupils.
1961-1988 – Mr Colbourn bought the school from the Lowes. It continued as a co-educational day school for children aged 4-11 years of age with more than 100 pupils. Boys, reaching a sufficiently high standard, could remain at the school until 12 or 13 to take scholarship or Common Entrance examinations.
1988-1993 – Mr Williams bought the school when Mr Colbourn retired. He had most of the outbuildings built including the hall, boys changing rooms and music pods (originally science and art rooms). His wife owned donkeys!
1993-1996 – Mr Dan became Headteacher and his wife Mrs Dan was the music teacher, producing some incredible school productions.
1996-2011 – Mrs Boyton-Corbett was the last headteacher to live on site. She sold the school to Cognita in 2008, then under the leadership of Chris Woodhead, former head of OFSTED.
2011-2016 – Mrs Powling had worked at the school for years before becoming Headteacher.
2016-2020 – Mr Douglas, two of sons were pupils.
2020-present – Mrs Moss joined the school in 2004 as a Year 6 maths teacher.
Animals at St Margaret's
From horses to donkeys to cats and dogs, animals have always had their place at St. Margaret's. Long before the school was founded the main building was the stables of Gosfield Hall, housing their horses. Even after the founding of the school while no horses were kept onsite St. Margaret's had a very successful riding team.
Marion Cordingley, a former teacher remembers fondly the years that Mr Williams and his wife kept donkeys on the school field. These donkeys were not known to be naughty, except on one occasion when a pupil left his blazer too close to the fence and it was stolen by one of the donkeys! Despite being chased by Mrs Cordingley the blazer was not recovered in one piece.
As headteachers used to live on site their family pets often became school pets. Anyone who was a pupil or teacher when Mrs Boyton-Corbett was Head can tell you about the beloved Mr Poppy, a cat that it turns out was not a girl (Poppy) as originally thought, hence becoming know as Mr Poppy.
Even now, Mrs Moss' guide dog in Vaughn comes in to the school to hear the children read!
If you have any stories or pictures from your time at St. Margaret's we'd love to hear from you. Please get in touch via our Alumni page.
Published on: 4th February 2021