Online Teaching & Learning – Getting it right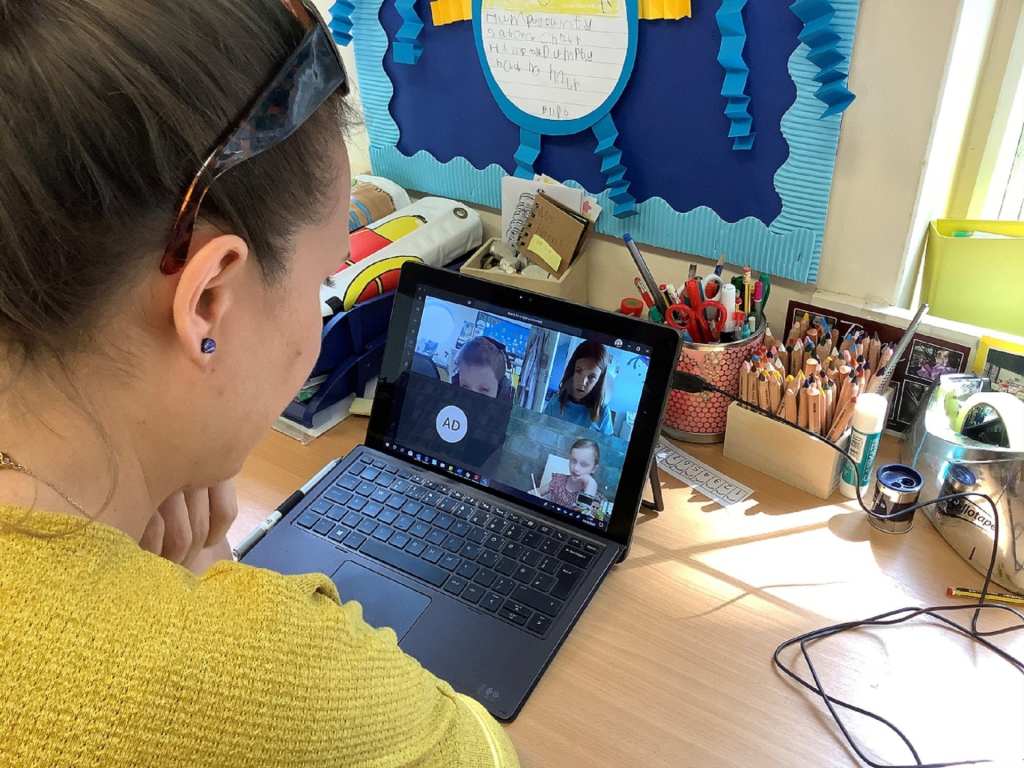 Back in March, we were able to react to the challenges that the COVID-19 pandemic sprung upon schools. We carefully and meticulously planned our online teaching and learning programme, making every effort to ensure that our pupils are still getting an excellent education.
We are successfully delivering the Summer Term curriculum as planned. A school day timetable is being followed and classes are led by teachers, with up to three hours of face-to-face learning each day. All aspects of the curriculum subjects including maths, English, science, modern languages & Latin, art, music, geography, history, computer science, PSHEE, RE, study skills and verbal reasoning are being covered.
Peripatetic music lessons are continuing remotely as are 1:1 booster lessons, individual reading and catch-up sessions to ensure each child continues on their learning journey every day. Our Reception pupils benefit from daily face-to-face sessions with their teachers and they, and Nursery children, have directed learning challenges set daily. There are special assemblies, pupil competitions and family challenges to join in, helping to keep the St. Margaret's Family spirit alive.
Clearly, there is no substitute for physically being back in the classroom altogether, but this day-to-day contact is keeping our pupils motivated and our parents tell us that this is an enormous help. Indeed, the results* of our recent Parents survey confirm that we are getting it right.
We've welcomed parents recommendations and overall the feedback has been extremely positive. 
"The teachers are doing a fantastic job! We feel that both of our children are well supported on a daily basis as they would normally be if they were at school."
 "I am really happy with the level of support my child is getting, it is an ideal and achievable balance of online live interaction and video tutorials, so we can complete his learning tasks around the timetable if we need to."
 "I think the teacher's are doing an amazing job at providing our children with continuity in their learning. It is clear they are all working really hard through these challenging times."
 "Given the teachers have had to react at speed, work remotely, spend hours on new resources and teaching time, it's been beyond impressive. I've also been impressed with the professionalism of my daughter, credit to her, but also credit to the school, as that mind set comes from the prior years.  Imprinting both maturity and professionalism, care, and attention to detail. That's actually really impressed me."
 "I feel that the online teaching experience is fantastic and it is obvious  how much hard work and effort goes into it from all the teachers. The work is structured, everything is explained well and support is always on hand if needed. We couldn't be happier with this solution and all three children have taken to it very well. I especially like how it is teaching the children to take responsibility and allows them to gain more independence."
 "I'm really pleased with how my children are being taught and supported.  This is not home schooling but remote learning at its best."
It is our aim to minimise the impact of lockdown on our pupils in terms of their learning and for as long as it continues, we will commit to making every effort in sustaining this high level of online education provision for all.
To find out how we can help your child, call our admissions team to learn about our virtual taster days, tours and video meetings with our teachers.
*percentage of respondents to the Voice of the Parent Pulse Survey, May 2020
Watch this video to see our teachers and pupils in action
Published on: 21st May 2020