Music & Drama Education Awards Nomination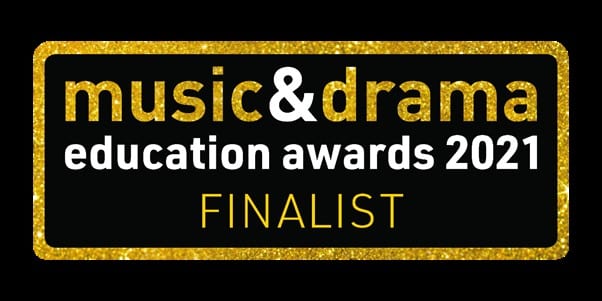 We are delighted to announce that our Director of Performances, Mrs Claudia Gray, has been shortlisted in the 2021 Music & Drama Education Awards. Mrs Gray is nominated for the Drama Inspiration Award for writing and directing the Year 6 leavers film, 'Our story of resilience'.
The Music & Drama Education Awards are being celebrated with an extra special virtual ceremony on the 24th March and we will all be watching in anticipation.
Due to the pandemic, our Year 6 leavers had missed out on so many 'rights of passage' including Speech Day and the end of year musical theatre production, for which our Year 6 pupils would audition for the major roles.  Our pupils feed 16 secondary schools and the end of Summer production is an emotionally charged performance and greatly anticipated event.
Given the constraints of bubbles and social distancing in June 2020, Mrs Gray wrote and directed a film for the children to perform helping to create a positive end to their extraordinary last year at the school.
The film follows the School's 'Coronacoaster' experience from the lows of closure, to stepping up to the challenges of online teaching and learning from home, to the joy of returning and being back together with friends. It depicts the children's resilience and positivity as they now look to the future, with every Year 6 pupil acting out their future self in their chosen profession.
The props (which includes a real tractor!) and scripts are exceptional and the whole production is very professional. Mrs Gray worked in collaboration with two sixth form college students, Ben Moss and Connor Crowley and together the team directed, filmed and edited this memorable 45-minute film over a 3-week period once the majority of the Year 6 children had returned to school. Y6 pupils who were shielding and learning from home sent in videos so that every pupil in the Y6 group was recognised for their contribution to our amazing school.  This initiative increased the children's wellbeing in a difficult and emotional time for them and gave them a legacy film to enjoy in the future.
You can watch the Y6 leavers film here
The Awards will be premiered live at 6.00pm on the 24th March 2021 at musicdramaedawards.com and Facebook Live.
Do please contact us to find out more about the Drama provision at St. Margaret's, admissions@stmargaretsprep.com
Published on: 1st February 2021