Mrs Easton's Trip to Guatemala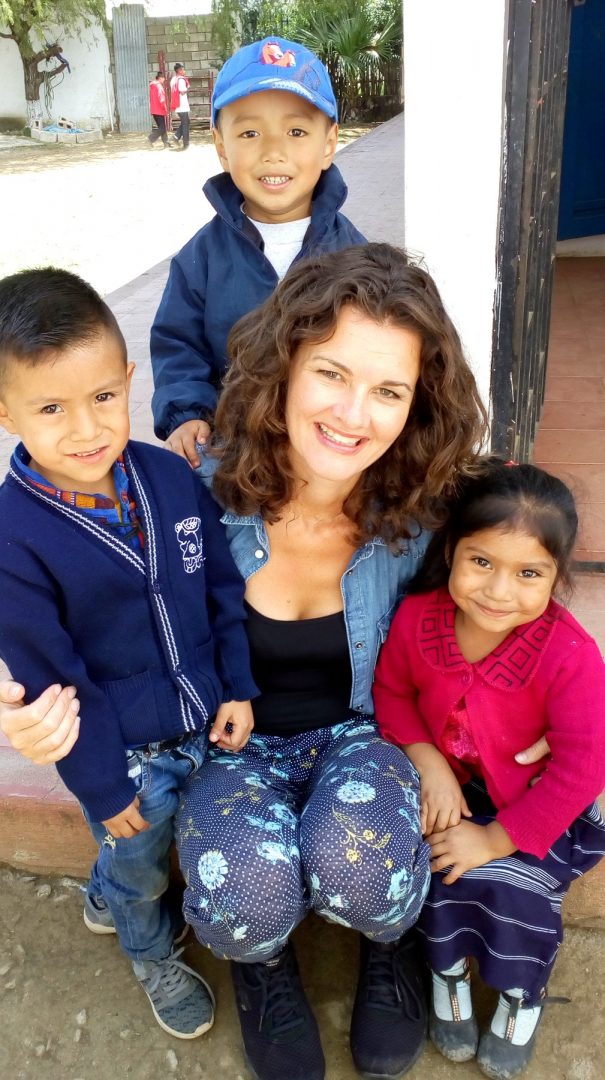 I was fortunate this summer to go on a "trip of a lifetime" to Guatemala
In a small group, we travelled around the country with the UK's only Maya archaeologist, Dr Diane Davies, as our leader. From Diane and her many friends, we learnt about how the Maya live today and how the ancient Maya lived. This involved getting up at 4.00 am, walking through the rain-forest by night and climbing the immense temples (some as high as 70 metres) at Tikal, the largest Maya site, to watch and listen to the jungle dawn. Because Diane is an expert and has been travelling to Guatemala for 15 years, she knew how to avoid tourist traps and somehow engineered the experience so that we were the only people in the whole area; it was magical to sit above the jungle canopy, by night, on a Mayan temple, with no other soul in sight.
I delighted in speaking Spanish throughout the two week trip and interpreting for my group. This included translating from Spanish into English during a Mayan language workshop, a talk on the medicinal properties of herbs and a "Day Ceremony" delivered by a shaman in the middle of a maize field. This ceremony hinged around thanking and paying tribute to the ancestors, by making offerings thrown into a fire. It was very moving, as the Maya are a warm and gentle people, despite having suffered discrimination, genocide and oppression.
We also attended workshops on chocolate, oil painting, tortilla making and ate traditional meals with Mayan people. We crossed the very choppy Lake Atitlan, surrounded by twelve extinct volcanoes and visited the local weavers of San Juan de la Laguna and learnt how they extract, spin, dye and weave cotton using a backstrap loom. Here, I was unable to resist buying four ponchos and indulging in a massage! We learnt about the most expensive gemstone in the world, jade and how it forms through a process called "subduction", along only certain tectonic plates. I was unable to resist buying some beautiful jade jewellery, which was the most precious mineral to the Maya; to them, gold was valueless. Visiting the market of Chichicastenango was an assault to the senses, crowded and intense, though spectacular! The colonial city of Antigua, full of brightly coloured, mainly single story buildings, cobbled streets and surrounded by volcanoes, including the recently erupted Volcan de Fuego was stunning.
A true highlight for me was visiting Melody Primary School in Chimaltenango where 80% of the children are Maya. The children are from impoverished backgrounds, living in corrugated iron huts with mud floors and the whole family sleeping, cooking on log fires and washing in one room. Despite this, the children were beautifully turned out and brimming with enthusiasm for learning. In the space of one generation, a whole family's future can change for the better through education, is the school's philosophy. Melody School was founded by the Headmaster, Igor, a true altruist and a whole classroom was built by Canadian female volunteers with no previous building experience! The school welcomes volunteers and donations. If you would like further information about the trip or about Melody School, please contact me. I could not recommend the trip more highly and am already on the list for Mexico 2020!
Mrs Abi Easton
Modern Foreign Language Teacher at St. Margaret's Prep School
Published on: 11th September 2018