ISA Tag Rugby Tournament Match Report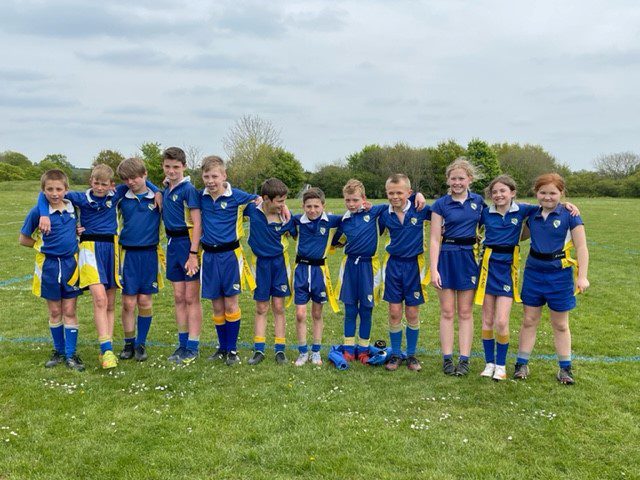 St Margaret's pupils attended the ISA Tag Rugby tournament at Woodlands school on Thursday 28th April, we were to compete against 4 schools to battle it out for a place in the final. 4 points for a win, 2 for a draw, 1 for scoring 4 tries in the fixture and finally 1 point for a losing team if they were only 1 try behind the winning team.
Our first opponents were the host school Woodlands. This first fixture was a back and forth affair as St Margaret's grew in confidence, settled themselves with the rules, and started to gel as a team. Dylan led the way with 2 tries in a 7 – 7 draw, he used his fast feet to beat the opposition and speed to make it to the try line. There was a great try from Amber who used her pace to beat 2 defenders down the wing. And further tries from Harry M, Harry G, Freddie and Louis to cap an all-round good attacking display.
The second fixture would prove to be much more difficult, Ursaline were a well drilled side that had more than 1 dimension to their attacking play. St Margaret's players realised in this fixture that, due to the 6 tag turnover rule, making 1 pass from the tagged player and just running it back at the defence on their own was not going to breakdown a stronger defensive opposition. We did not utilise the space and we were punished for it. Another try from Dylan and 1 each from Ben and Darcey who each worked well to accelerate through gaps in the defence and tear towards the try line. The game finished 5 – 3 to Ursaline.
The third fixture saw St Margaret's face St Michaels, and after some feedback from Mr Sanders, St Margaret's looked stronger in attack. We started to let the ball do the work, passing before the tag was being made which allowed players to create space for their team mates. For example, Wren received the ball and instead of trying to run around the outside of the opposition (which had been mainly the first choice option so far) she straightened her run causing the defensive players to be drawn towards her. This created the space for Harry on the outside, and once Wren had found him with a great pass, Harry ran the rest of the pitch for the try. Not only was this a good victory 7 – 5, but, the players could see the benefits of what they had been coached in their games lessons by Mr Lunn and Mr Sanders about utilising the space and drawing in defenders before passing the ball. The other tries came from Noah who was putting in consistently strong performances, Harry G who did not stop working hard, Freddie that led from the front, and finally an exhilarating first half hat-trick from Louis.
Our fourth fixture showed that we had begun to work as a team not only in attack but in defence also. We faced St Pierre and they were no match for our teamwork at this point. Josh was becoming a playmaker at first receiver and passing the ball wide to team-mates in space once he had drawn the defence in. St Pierre could not predict where we were going to attack from! Saul had some fantastic weaving runs to break through the defence and put his team on the front foot whilst also working hard to tag the opposition. Ben had taken up the mantle as a leader in every game he played and really worked to organise the defensive line and blitz to pressure the opposition. 4 tries in total, 2 in the first half and 2 in the second scored by Noah, Ben, Harry M and Dylan meant the final result was 4 – 0 to St Margaret's which sent us to the final against Ursaline!!!
The Final was a tricky fixture, St Margaret's knew they would need to play at 100% to challenge the opposition. Although we made a few handling errors the overall performance of the team was determined. Ursaline took an early lead but St Margaret's would not roll over and lay down, we kept battling back in to the game. There were a few decisions that didn't go our way but that is sport for you. Josh Baker stepped up with a few important tries to keep us in it until the last few minutes of the second half when Ursaline pulled ahead to a 7 – 4 victory. I could not be more proud of the way that St Margaret's conducted themselves on and off the pitch, they gave their all and that is all that can be expected. What I enjoyed the most was seeing the development of the team, how they had started to understand the game more, and where they might put their team mates in better positions then themselves to score. It was a great day and we finished 2nd so a massive well done to all those involved.
Published on: 3rd May 2022