Introducing Miss Dack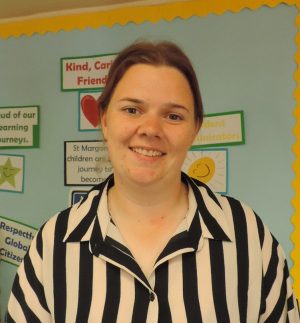 We're really excited to have Miss Chloe Dack join us in September to teach sports across the whole school and to be a Year 6 form tutor.
Job title: Games & Year 6 teacher
Where did you work before, what did you teach?
Previously I was a Sports Graduate and then completed my PGCE in Primary PE at Bancroft's Prep School.
Why did you decide to become a teacher?
From a young age, I have had a love for sports, when I first started cricket I knew it would be part of my future. I then started coaching cricket when I was 16, which I loved and continued to realise that this was where I wanted to go with my career. I followed this up by going to university to study sports, coaching, and development. During my time at university, I helped out at a school which made me realise teaching was the job for me post-university. I fell in love with teaching when I first started at Bancroft's Prep School which made me want to continue teaching PE to young children starting their sporting aspirations.
If you hadn't become a teacher, which career would you have chosen instead?
I would have loved to become a professional cricketer, when I was younger this wasn't possible for women. But now the game has expanded and it is now possible.
How do you think your school days have shaped your adult life?
I was a very quiet child at school but was always keen to join in new things. I was always busy during and after school through a range of clubs. This has allowed me to achieve lots of different outcomes, which has pushed me to become the teacher I am today. I aim to allow everyone a chance to try new things as well as give my support to help pupils achieve the best they can.
How has school life changed in the last 10 years?
My focus is PE, I feel this subject area has changed hugely through the introduction of new sports and the idea of sporting for all, allowing everyone to have equal opportunities to play any sport at school. 10 years ago you would not be able to watch women playing the same sports as men would. A standout for me is the summer sports, even 5 years ago the girls would always play rounders whereas the boys would focus on cricket. But this has now changed and there are equal opportunities for both as cricket has produced some amazing opportunities for everyone.
Which aspect of your job do you enjoy the most? / What are you looking forward to most in your new role?
I am looking forward to meeting everyone when I first start and going away on fixtures to compete against other schools.
Who would you most like to have as a pupil, if you could pick anyone?
I would love to know what my parents were like as pupils, to see if they were similar to how my sister and I were at school.
How do you relax away from work?
To relax I enjoy swimming and going on walks with my parents around the countryside.
Did you know? Please give us a fascinating fact about you.
I have played cricket at Lords, the home of cricket.
Published on: 24th August 2022