Football Tournament Champions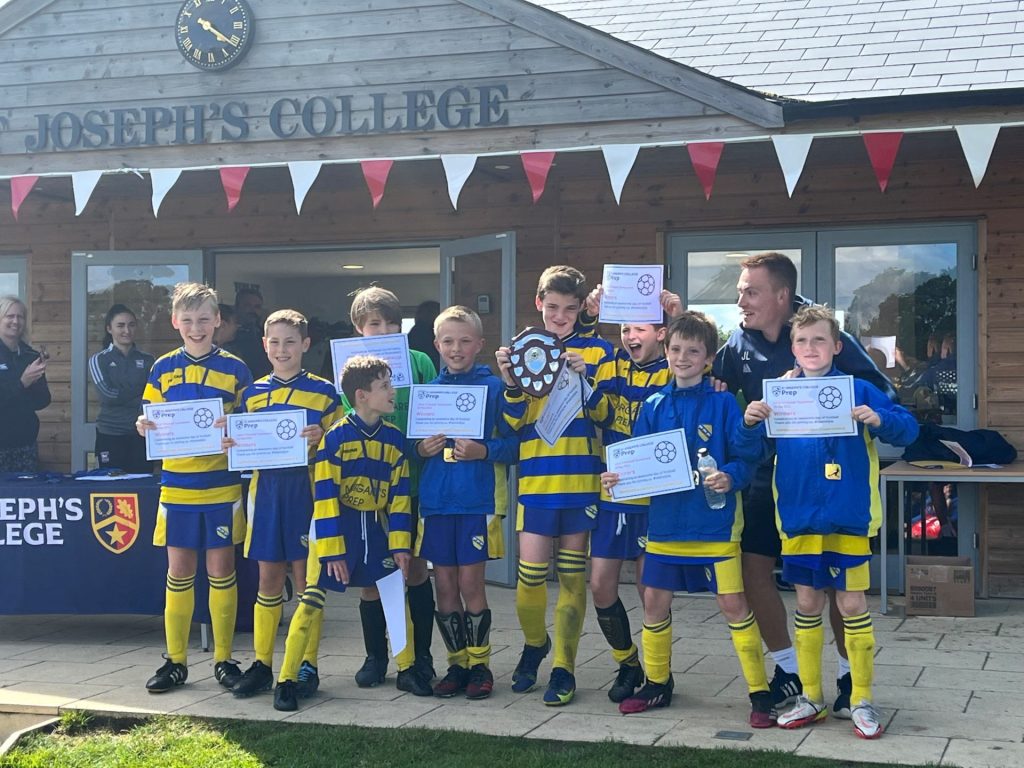 On Friday 21st May, for the first time, St Margaret's were able to take three football teams to St Joseph's College for an U10/11s boys and girls football tournament. The PE Department have been working with the boys' teams in lessons and at club across the year and have been working with the girls' team in lunchtime clubs this term where they showed a real enjoyment of the sport in preparation for this tournament. The tournament saw primary and prep schools from across the local area taking part and we knew it was not going to be a walk in the park.
A Team Report
After a very swift warm up, we were ready to take on our first school, Copdock and Bentley Primary. The St. Margaret's boys started strong, and it didn't look like Copdock were going to get out of their half with St Mags playing some great football. After constant pressure we broke the deadlock and went 1-0 up through Joshua's short range effort from within the box. This seemed to settle us down and meant we could play some even better football, building from the back and going through the phases. Following this we were able to get 2 more through Joshua meaning the game finished 3.0 to St Margaret's. Well done Joshua for the Hat-trick.
The second game was against Lawford primary school. Within the first couple of minutes of this game we knew that these were going to be a tougher opponent. The game wasn't full of chances with the best chance of the game falling to Joshua who went one-on-one with the keeper, looked to slot it into the top right but an outstanding save from the Lawford player between the sticks prevented us from going 1-0 up. This game saw some great defending from Harry M who, on more than one occasion, stopped a counter attack from becoming threatening. In the dying seconds of the game the Lawford CM's strike from just outside the area flew past a very capable Noah and into the net. There was no time for us to make a comeback, so we had to settle for a 0-1 loss.
The third game of the tournament was against St Philomena B team. This was a very frustrating game for us as we were not able to break the deadlock. We played some great football and Noah made some extraordinary saves that kept us in it. The closest we came was with Dylan, a shot from outside of the box looped the keeper and bounced off the top of the crossbar. The game finished 0-0.
Our final group game of the tournament was against St Marks. This was a tight game to start but you could see that we had now found our feet and were ready to push on in the tournament. We started playing some brilliant football and Reuben was a good hold up player for the team who created chances for those around him. With Reuben and Max creating these chances Dylan, Harry G and Louis were able to get on the score sheet. The game finished 3-0
Following our results in the group stages it meant we had finished 2nd in our group and would be progressing into the semi-final against the hosts, St Joseph's College. The game started well, and we were now playing our best football. We were being patient, passing the ball around and ensuring it was difficult for St Joe's to get any grip on the game. After 4 minutes a great pass from Louis put through to Freddie who came up with the goods. A great strike into the bottom left corner gave the keeper no chance. The boys then saw out the game with ease meaning it finished with a 1-0 win.
We were now in the final and it was our chance to get one back against Lawford (who we lost 1-0 against earlier in the day). The game was tight, both teams had opportunities to go ahead but we now had Harry G in the middle dictating play which gave us the lion share of possession. There were some good runs from Max in the game where he was able to get in behind the defence and put a ball in the box, but we couldn't seem to finish it off. The game finished 0-0 and we went to extra time. We switched ends and made a couple of subs, bringing on Freddie and Louis. I knew either of them could change the game and they did. Freddie went through on goal and saw the keeper was streaming out at him. He kept his composure and took the strike from range. It was in! 1-0 to St Margaret's in the final. We had to keep our lead and with Harry and Josh at the back Lawford had no chance. The final whistle went, and it meant that we would be going home with the shield.
B Team Report
Our first game was against Ardleigh Primary and we began slightly cagey. We seemed a bit unsettled and took a bit of time to start playing the St Margaret's brand of football we like to see. We soon realised that we could pressurise the opposition and use our pace to our advantage with some great runs down the wing from Flynn but we couldn't find the final pass for a goal scoring opportunity. Ben K was leading by example and getting on the ball wherever he could, supported by a strong midfield display from Oliver S and a solid defensive wall in Saul and William S Ardleigh never looked like causing St Mags any issues. A goal for St Mags did look like it was on the cards but the goal itself was a little out of the ordinary, Oliver managed to flick the ball over the keeper from about 8 yards out to take a 1 – 0 win.
Our next match was against Nacton and this proved to be a tricky contest. Neither team seemed to be dominant or create that many goal scoring opportunities. We started to try and work the ball forward with some nice passages of play and Rufus, Eren and Hugh were working hard to try and unlock the defence. But it was not meant to be on this occasion and the game finished 0 – 0 despite the determined efforts of all the St Mags players.
Our third game saw us up against Philomena's A team and we did not get off to a good start conceding 2 early goals. But determined not to go down without a fight St Margaret's had a second wind, with a solid defensive effort from Saul it allowed William to push forward when on the ball which gave us an overload in midfield. This led to clawing one goal back to finish the game losing 2 – 1.
Our final game of the group stages saw us come up against the hosts St Joes. They were a confident and talented squad that seemed to have fire power in all positions. St Margaret's had a bit of a wobble with the structure of our formation and unfortunately this led to a handful of goals. This game did not fully reflect the capability of the St Mags players as we looked a little disconnected. The players dug deep and started to pressure St Joes every time they were in possession and you could really see how much this started to frustrate them. Although it was a determined effort for the second part of the match the hosts went away with a 4 – 0 win.
These results meant that we finished 4th in our group and our final game came against St Philomena's B team who finished 4th in their group. We looked very strong and seemed to really enjoy the experience now that the sun was out. William swapped with Henry Chen in goal who had a busy day between the sticks and pulled off some good saves. The opposition managed to sneak an early goal even though St Margaret's were the dominant team. Ben was putting pressure on the defence, Oliver was solid in the centre of the park and Flynn was using his pace out wide to create opportunities. Apart from the early goal, Henry and Saul had not let anything get past them at the back which stirred the performance of the players. William pulled off two great saves to keep the team in the game and finally the defence was unlocked by Ben to snag the equaliser to finish the game 1 – 1. Great work from all the players and an enjoyable day all round.
Girls Team Report
The St. Margaret's Girls Football Team played their first competitive tournament as a team. Although they had attended a lunchtime football club at school, this was their first tournament as a team. For many of the players, it was their first time playing against unknown opposition. With this in mind, our expectations as a team were realistic, and we viewed this tournament as a learning experience for us all. However, in true St. Mags fashion, every player played beyond their own expectations and after drawing the first two games 0-0, with excellent saves made by our gifted goalkeeper, Jemima, and strong defensive play by our solid back three, a euphoric goal, in our third game, scored by Heidi, gave us our first victory and elevated the whole team. Following this we came up against a couple of very strong teams who we were just not able to keep out. We may not have won the tournament, but we have started to build a solid foundation for a great girls team next year!! Well done to Esme, Isla, Evie, Izzy, Hara-Leyani, Jemima, Amber, Mya, Matilda and Florence. It was an absolute pleasure to be part of your team!
Well done to everyone involved on the day and thank you to the parents who came and supported. It was a great environment, and we always appreciate the atmosphere that you bring with you. Special mention to those year 6s who have now played their last football game for St Margaret's. You have worked hard and deserved the brilliant year of results that has been littered with success and silverware.
Published on: 25th May 2022