Virtually Open: Supporting our children in this new world of online teaching and learning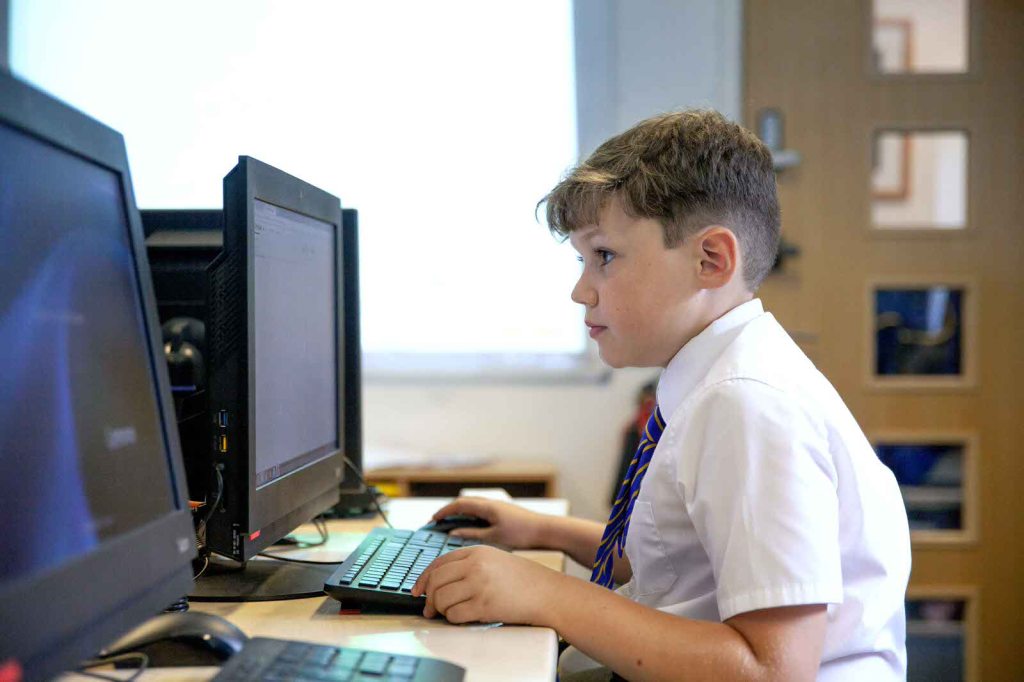 These are uncertain times as a parent. As well as not being able to tell your child what is or is not going to happen in the coming weeks, you will also need to oversee their learning at home. It is natural that you may feel anxious about this. Here, we provide reassurance and advice for parents during school closures.
As the physical doors closed at St Margaret's (Friday 20th March), we began our new age of virtual learning using online technology. Staff and pupil interaction is vital during this time away from school and with support from parents, we aim to deliver high quality lessons and interject it with family time, health and fitness.
Of course we understand that parents will be worried about how their children will come out of the other end of this, will they suffer emotionally and mentally, and will they have the knowledge and skills they need in the future if they're not in school?
The wellbeing of our children is of paramount importance to us and we know that there is valid concern that the lockdown will have a negative impact on the mental wellbeing of young people in particular. Keeping structure in the day, building in breaks and exercise as well as some virtual socialising will help children navigate this period of isolation. Our online teaching and learning programme will help with this as we ensure our pupils remain on track with their academic development without overloading them.
Children have infinite capacity to adapt and technology does not scare them. We are not trying to replicate our unique St. Margaret's classroom experience – we are offering something different but very valid. The staff are working extremely hard to continue to bring our children stimulating and stretching lessons through other means. Our pupils will very much still be developing the skills they need for the future.
Blessed with the benefits of having time to plan, from a recent tech refresh here at St. Margaret's and from the lessons learnt from our sister schools in Asia and Spain, we are confident that we are delivering a robust online learning programme.
This new way of learning remotely will develop skills for the future such as complex problem solving, critical thinking, creativity, time management, emotional intelligence, judgement and decision making, negotiation and cognitive flexibility.
Children adapt to change so much quicker than adults and different does not mean worse. We do not expect it to be easy straight away, but it is important to stay positive, be flexible and to not put too much pressure on the children, the teachers and yourselves.
And remember, we are all in this together – every school pupil across the UK is experiencing the same change in their education provision. How we connect with them and support them through this challenging time is essential.
Utilising the experiences, insights and advice from our global 'Cognita Family', we will bring every one of our own St. Margaret's families through to the other side, and we will all be stronger for it.
Tips for maintaining wellbeing during school closures
Timetable. Treat weekdays as normal school days, with clear boundaries between lessons and play or down time.
Children should get up at the same time, get dressed for the day and follow their timetable of lessons/activities/mealtimes.
Where possible, include time in nature within your timetable – even if it is simply getting some fresh air in your garden or on your balcony.
Include opportunities for learning beyond the traditional curriculum – our teachers have been including links to a whole range of engaging resources, including virtual tours, easy experiments, cookery, physical challenges etc
Space. Factor in the physical and emotional space for your family. Being 'on top of each other' for long periods can cause friction – we usually can all benefit from some private time out.
Practical Logistics. Establish a clear workspace for your child. Unless they are old enough and disciplined to manage their workload, consider somewhere more communal. It is also worth 'packing the school bag the night before' to make sure that you can start every  day positively and feeling organised.
Technology. This will be a fundamental part of your child's learning experience, the aim being to achieve a balance of creative and interactive use rather than just passive consumption of online material.
Sleep. Maintain your child's normal sleep routine.
Physical Activity. This is critical and must be factored into the timetable – we've included PE with Joe Wicks at 9am in all our timetables from Nursery up to Year 6, exercise is a great way to start the day. Short bursts of activity throughout the day can help refocus attention if your child (or you!) is becoming restless.
Diet. Keep your diet as healthy as possible and drink plenty of water. Reinforce the routine of a designated break time for snacks.
Manage your expectations about what your child can achieve (and adapt them as time goes on). Online learning can be an intense experience; support your child in taking regular breaks and, where possible, balance with physical activity.
Accept. This is a unique, highly challenging situation and something none of us would ever wish for. However, accepting it and finding a way to embrace any positives, such as supporting each other as a family, can help your child cope with unpredictability better in the future.
A final piece of advice for our parents is, 'Be kind to yourself'. We know that you are not a teacher and you are not expected to know how to do this. We are still very much here for you and your children. Try to look at this situation as a chance to spend time with your children in a way you will never experience again. Your best is good enough and we will get through this together!
For more advice and tips on helping your child through school closures visit: www.cognita.com