Alumni memories: Rosalind Smith, 1950's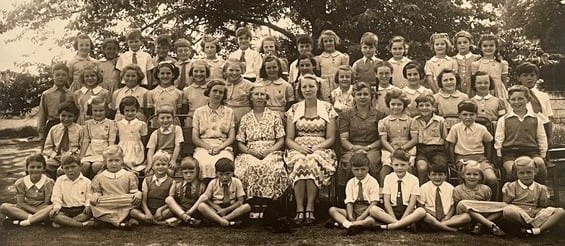 We were delighted to hear from former pupil, Ros Meacock (then Smith) with some lovely memories of her time at St. Margaret's in the early 50's, including the ever popular Sports Day. Ros is pictured in the back row, second from the right.
Imprinted on my memory in particular is the rest after lunch on the floor on mats but there was a girl called Grania Smith, I think that was her name, who for some reason had her own mock fur rug, the envy of us all as it was a very hard floor. The lunches were quite awful especially the stew, great globules of fat floating about!
But it was a happy school and my memory of Mrs Lowe is of a very attractive lady always smartly dressed and a kind smile. She ran the school very calmly, but we were all in awe of her husband Commander Lowe, whom we hardly ever saw, and I think we thought that if we misbehaved we might be sent to him, but I am sure he was a very nice man. Their two daughters I think were sometimes involved in the classrooms in particular Lisa who was quite artistic.
The other things that stand out in my mind are the Riding lessons every Monday afternoon so we had an early lunch and then we dressed up in the whole riding kit – jodhpurs velvet hat and all! And then gathered at the field where there was a proper ring and we were all given a pony according to our ability and trotted round the ring. Jenifer Hunable was the star as she had her own pony at home (to the envy of us all!!) I remember being given a rather lively pony once who decided to dump me on a mole hill and winded me, so I was handed over to Miss Brown to recover.
The Highlight of the year was Sports Day, held at end of Summer Term. There was great excitement for the Marquee and the prize giving usually by Brigadeer Veesey, who I think had a Granddaughter at the school, the prizes were all laid out on a table and you could choose which one you wanted.
There was also a cup for the best all-rounder in the school and I think Elizabeth Wrangham usually won it because not only was she very clever but very talented in the sports department.
Published on: 27th April 2021